Xplore's mission is to find cures for lung diseases and to improve the quality of life for patients with lung diseases.
Chronic lung diseases are estimated to become the 3rd killer in man by 2020 according the World Health Organization.
Our lab focuses on lung disease in babies: chronic lung disease of prematurity, pulmonary hypertension, and genetic diseases. Effective interventions at this stage of life provide exceptional value – improved quality of life, and decreased economic burden. Our team is made up of passionate people dedicated to a single goal: finding cures.
Dr. Bernard Thébaud MD, PhD
Neonatologist, Senior Scientist
Dr. Bernard Thébaud is a clinician-scientist recruited to Ottawa from Edmonton in 2012 to accelerate the translation of stem cell-based therapies for lung diseases. Dr. Thébaud is a senior scientist with the Ottawa Hospital Research Institute and a neonatologist with the Children's Hospital of Eastern Ontario, where he provides care to critically ill newborns. He is also a Professor of Pediatrics at the University of Ottawa. Dr. Thébaud obtained his MD at the University Louis Pasteur in Strasbourg, France in 1991 and trained in Pediatrics and Neonatology at the University Paris V in Paris, France, where he also obtained his MSc and PhD, before completing a 2 year post-doctoral fellowship at the University of Alberta. Dr. Thébaud studies the mechanisms of lung development, injury and repair in order to design new treatments for incurable lung diseases. He has set out an ambitious research program in order to study clinically-relevant questions for translation into real-life applications. His goal is to bring safe and effective cell-based therapies for lung diseases into the clinic, and thereby create vast improvements in patient outcomes. Dr. Thébaud has participated on numerous peer review committees and scientific advisory boards at the international, national and provincial level, including NIH and CIHR. He has over 120 peer-reviewed publications, and given over 80 lectures at leading international meetings and institutions over the past 5 years. He received the "Rising Star in Perinatal Research" award from the CIHR Institute for Human Development, Child and Youth Health in 2008, and the "Best in Current Canadian Child Health Research" Sanofi Pasteur Research Award in 2007. Dr. Thébaud currently holds the University of Ottawa Partnership Research Chair in Regenerative Medicine.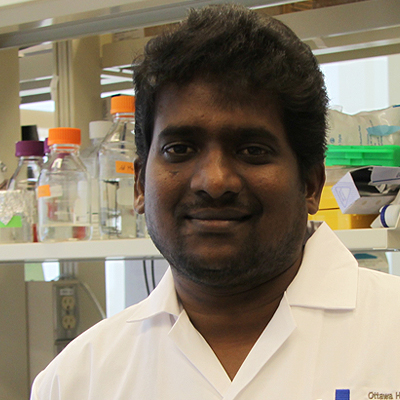 Arul Vadivel, PhD
Senior Research Associate
Arul is studying the mechanisms of oxygen-induced lung injury and potential therapeutic strategies. Arul has been with the Xplore Lab since 2007 and his research with Dr. Thébaud has led to the identification of several novel therapeutic targets for the prevention and treatment of chronic lung diseases, including bronchopulmonary dysplasia (BPD).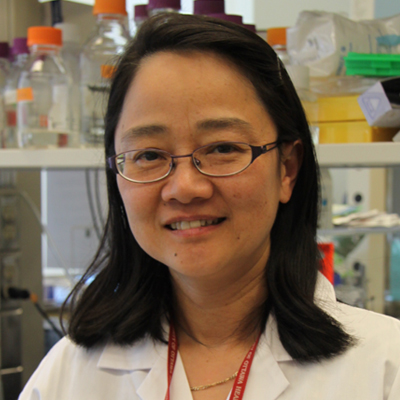 Liqun Xu, MSc, MD (China)
Senior Research Technician
Li is interested in using various experimental models to study the therapeutic potential of lung type 2 alveolar epithelial cells and to examine their alveolar maintenance and regenerative capacity.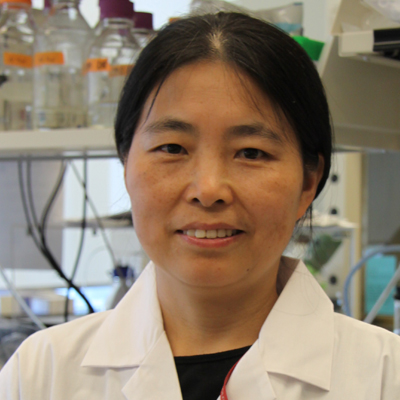 Shumei Zhong, MSc
Research Technician
Shumei is part of the backbone of the lab, performing endothelial colony-forming cell isolation and characterization, providing tireless technical assistance, and ensuring proper functioning of equipment.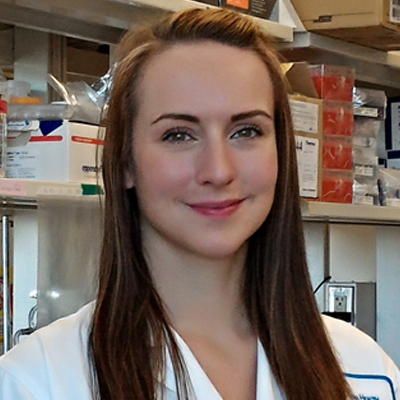 Chanèle Cyr-Depauw, MSc
Research Technician
Chanèle is interested in the therapeutic potential of stem cells in lung disease, in particular bronchopulmonary dysplasia (BPD), a major cause of mortality in preterm infants. She is currently focused on developing the most appropriate approach to exploit the therapeutic benefit of human umbilical cord mesenchymal stromal cells for the treatment of preterm infants with BPD.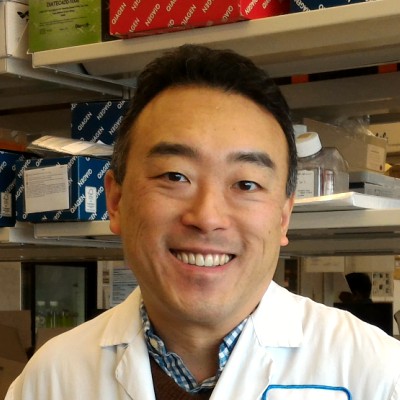 Martin Kang, PhD
Postdoctoral Fellow
Martin's goal is to help the lab develop a novel cell-based therapy to treat genetic causes of surfactant deficiency. Specifically, he is studying how to improve the differentiation of human induced pluripotent stem cells (hiPSC) into alveolar epithelial type 2 (AT2) cells, the cells responsible for surfactant production in the lung. These hiPSC-derived AT2 cells will be tested in animal models of surfactant deficiency for their ability to restore and regenerate surfactant levels.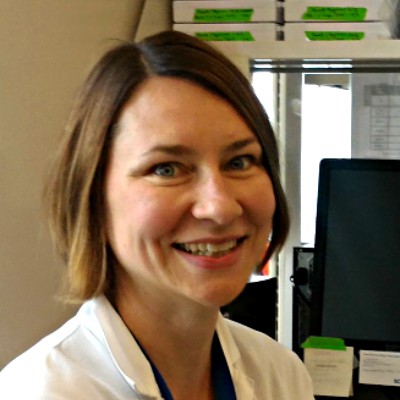 Maria Hurskainen, MD, PhD (Finland)
Postdoctoral Fellow
Maria explores the role of immune cells in lung regeneration in an experimental model of BPD, which is characterized by inflammation and arrested alveolar development. Enhancing the anti-inflammatory signature in the lung may potentially lead to improved lung development. Specifically, Maria studies the potential mechanisms of pluripotent stem cell-derived macrophages in various in vitro and in vivo systems modelling alveolarisation.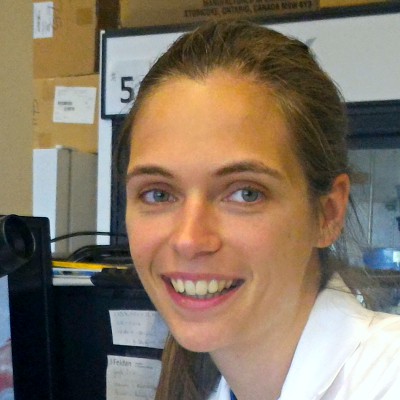 Flore Lesage, PhD (Belgium)
Postdoctoral Fellow
Flore explores the potential of cell-based therapeutic strategies to promote vascular development in neonatal pulmonary hypertension and other neonatal lung disorders. Improving vascularization will ultimately lead to improved lung development, as these two processes are mutually dependent. Specifically, she studies the regenerative capacity of endothelial progenitor cells in various in vitro and in vivo systems modeling vascular dysfunction.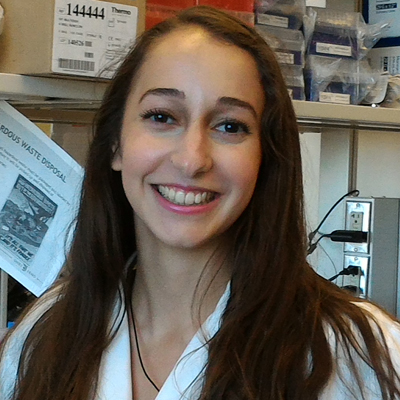 Marissa Lithopoulos, BSc Hons
PhD candidate
Marissa is exploring the mechanisms of brain damage in an experimental model of BPD. Specifically, she examines how hyperoxia exposure affects neural progenitor cell (NPC) function using both in vitro and in vivo techniques. Marissa is investigating whether damage to NPC function plays a role in the neurological defects frequently associated with BPD.
Kathleen Atkins
University of Toronto, Toronto ON
Project: Resident lung MSCs are perturbed in experimental neonatal lung disease
Howard Guo
University of Ottawa, Ottawa ON
Project: MSC-derived exosomes in repairing the adverse effects of oxygen-induced BPD
Joanne Joseph
University of Ottawa, Ottawa ON
Project: EPCs and exosomes in a hyperoxia induced BPD model
Xin Xu
University of Ottawa, Ottawa ON
Project: iPSCs for the treatment of lethal genetic lung disease
Kathleen Atkins
University of Toronto, Toronto ON
Jennifer Collins
The Netherlands
Genevieve de Caen
University of Ottawa, Ottawa ON
Moses Fung
University of Alberta, Edmonton AB
Arjeta Gusinjac
Ottawa ON
Brittany Harrison
University of Ottawa, Ottawa ON
Nahla Issa
Belgium
Michelle Le
University of Ottawa, Ottawa ON
Jang Hoon Lee
Korea
Tiffany Locke
University of Ottawa, Ottawa ON
Lars Mense
Germany
Marius Alexander Möbius
Germany
Megan O'Reilly
Alberta
Maria Pierro
Italy
Mehdi Shafa
Walkersville MD
Lannae Strueby
Saskatchewan
Ronald van Gaal
The Netherlands
Markus Waitz
Germany
Yueniu Zhu
The People's Republic of China